Despensas de Luz.
Sponsor meals and bring security to a family in Tijuana while forming a cross-cultural relationship.
Despensas de Luz (groceries of light) is a program built to bring meals to a poverty-ridden community at our Faro de Luz community center. Not only does it focus on providing families with meals, but creating cross-cultural relationship between the American sponsor family and the counter-part Mexican family. Colonia El Ranchito has a huge problem with poverty, creating effects of malnutrition among the families. Additionally, there are high rates of drug addiction and abuse within this community, which Faro de Luz is currently lowering through counseling and weekly services and classes. As a way to help break the cycle, monthly groceries will lower levels of stress in the household and allow parents and children to focus on their future instead of worrying about how to get their next meal.
Malnutrition causes dozens of physical and psychological effects that are significantly detrimental to children especially. Children who go to school hungry are not able to focus in their classes, making school more of a chore instead of a place to learn. If children go to school with a good breakfast in their system, they are more likely to pay attention and continue to learn. As part of our program, the grades of all of the children will be reviewed monthly to analyze the effects of the groceries on the child's learning. It will also be a motivational factor for the children to study and work hard in school, automatically making their future brighter!
We ask sponsors to make at least a 6 month commitment to ensure stability for families. Sponsors can either donate $25 by the 20th of every month or donate $150 and the Casas de Luz and Faro de Luz teams will manage the money accordingly. Each family will receive groceries on or by the 1st of every month, giving the team time to shop for groceries between the time of donation and distribution.
$25 per month or up-front $150 for a 6 month commitment
Our thoughts behind a 6 month commitment is to ensure food stability in households but to not create a reliance. Some families will need further support beyond the 6 months. However, Faro de Luz will be working with the families during this time to take a step forward and to start working towards the future instead of worrying about the next meal. Every month Faro de Luz will review the grades of each student in the family to measure the success of the nutrition.
Monthly Groceries
Every month families will receive the following:
2 kg beans

1 kg sugar

3,600 g rice

1 kg oatmeal

600 g spaghetti

30 eggs
380 g jalapeños

1.5 L milk

1 L oil

400 g tomato sauce

1 kg tortillas
950 ml bleach

750 ml dish washing liquid

1 kg laundry soap

6 rolls of toilet paper

750 g salt

20 flour tortillas
This list of groceries is based on the diet of an average Mexican household. Quantities are maximized with the price to provide the families with as much food as possible on a $25 monthly budget. All families will receive the same pack of groceries every month.
Cross-Cultural Relationship
In addition to sponsoring groceries for a family, the other half of the Despensas de Luz program is the ability to form a cross-cultural relationship through pen-pal like communications. Families on the US side of the border are able to choose which family they would like to sponsor and create a pen-pal relationship with. Each sponsor family will be able to form a relationship and become part of a family in Mexico.
Each month sponsors will be asked to send an update of their family, such as recent events, progress in school, etc. and photos. Their sponsored family will do the same and will be translated accordingly. In this way, families on both sides will learn about a completely different style of life and be able to notice differences and similarities that all families have in common. You never know what might bring you together!
Families
Sponsors are able to choose which family they would like to sponsor from the families listed below. More families will be posted as more sponsors choose their families. Please click the button below the family's information which will take you to our contact page where you can send us a message saying that you would like to sponsor a particular family. Get to know our families and begin your relationship now!
José, Iván (10 mos.), Yesenia
Yesenia has been living in this house on this land for 22 years. A few years ago she left to go to high school in Nayarit, Mexico. When she came back, she fell pregnant with Iván and decided to stay. Yesenia loves to sew, and sells embroidered napkins which she learned to do at the community center. José is a builder's assistant and has started to replace rotting wood on their roof. Little Iván is a baby who loves to eat, sleep, and cry but when he's not doing one of those, he likes to play with his toys, especially his toy hammer. The land is currently in the name of Yesenia's father who passed away, and she has not been able to get it in her name because of a lack of testimony. Their house has no windows, a dirt floor, and rotting wood that makes everything get wet when they rain.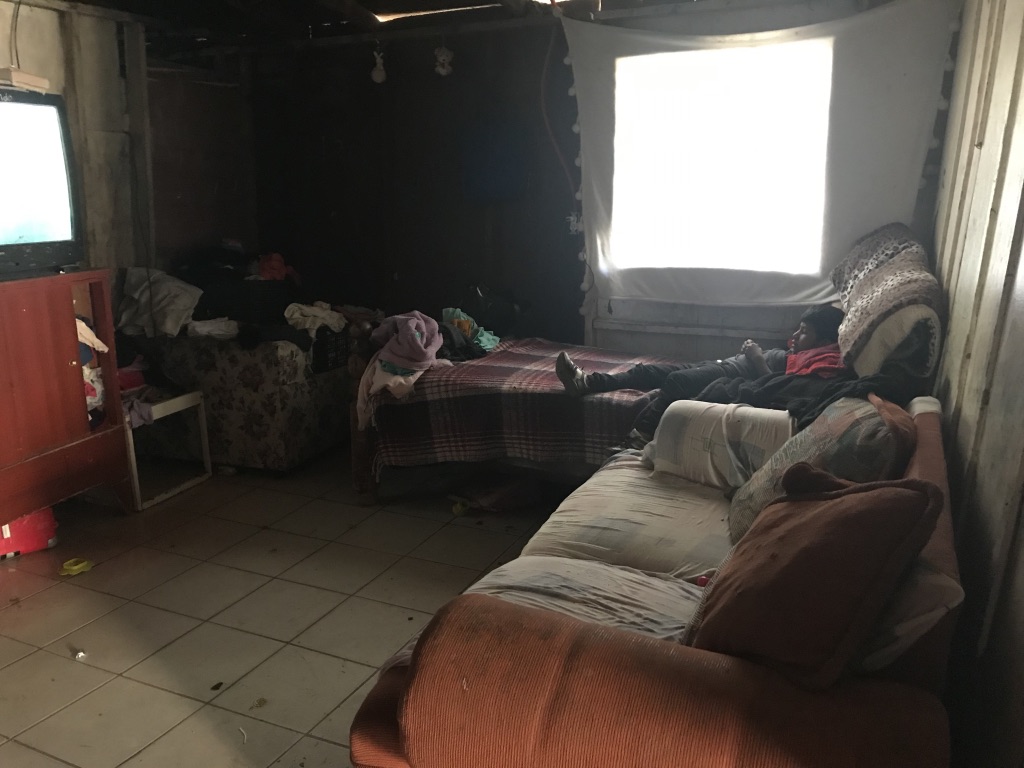 María, Ángel, Aracely, Ángel (12), Kenia (10), Cristian (6), Ángela (3), Fernando (2)
Ángel works as a security guard and Aracely works in a factory while Maria stays home to take care of the kids and the house. Ángel is in his 6th year at primary school, Kenia is in her 4th, and Cristian is in his first year. Angela and Fernando like to play outside together and with their older siblings when they get home from school. Ángel, Kenia, and Cristian like to do their homework when they get home and they enjoy playing with other community members at Faro de Luz.
Marfilio, Miguel (12), Alba, Darwin (14), Manuel (27)
Marfilio works as a bricklayer and earns around $75 a week while Manuel works at a fruit and vegetable market and earns around $65 a week. Alba stays home to take care of the kids and the house. Both Darwin and Miguel go to school and they love to play soccer in the park when they have time. They live in a house made of recycled wood and a dirt floor. They climb a high hill to attend the programs at Faro de Luz.
Rogelio, Wendy, Rogelio (22), Eduardo (21), Briana (8)
All of the men in this family work in a factory to bring in income and for the younger boys to start beginning a life of their own. Wendy stays at home to take care of Briana who is in her third year at primary school. As a family, they like to talk, read the Bible, and play. Briana especially loves going to the community center so that she can play with neighbors of her own age!
Sponsored by the Chaplin Family
Héctor, Sofía (3), Gabriela, Jesús (6), Michelle (4), Héctor (7), *Kimberly (9)
Sponsored by the Cottrill Family
Esther, Román (5), Óscar, Ashley (7), Óscar (8), Brandon (10)
Sponsored by the White Family
Oswaldo (11), Ruth, Yaír (11 mos.), Victor (11), José
Sponsored by the Nowell Family
Armando*, Sofia (2), Dylan (9), Esther (2 mos.), Marisol
Sponsored by the Young Family
Blanca, Nathaly (9), Ana Rosa, Bricia (5)
Sponsored by Anonymous Family
Francisco (10), Rosa, Casandra (8), Isamar (12), Ernesto (7), Rosario
Sponsored by Anonymous Family
Juana, Eneida, Ricardo (6), Osbaldo (5), Romelia (2) *Brayan (18), Luz Esther (15), Jonathan (1), Roberto (12)
Sponsored by the Cunningham Family
Edith (19), Jonathan (23), Ángel (1)
Sponsored by the Cottrill Family
María (18), Alejandro (14), Hugo (15), Alejandro, Ana María, Ana (10)
Sponsored by the White Family
María, Octavio (16), Rut, César Mateo (6), Diana Alexa (17), Octavio
Sponsored by the Cottrill Family
Crissia (13), Caled (6), Yoselín, Dilán (1), *Ignacio
Sponsored by the Bui Family
Maritza (11), José Luis, Veronica, Johana (13)
Sponsored by the Feldman family
Anabel, Rigoberto, Karla (13), Odalís (17), Ashley (14), Maria Luisa, Agustín